Notice Of The 25th Annual General Meeting.
News & Reports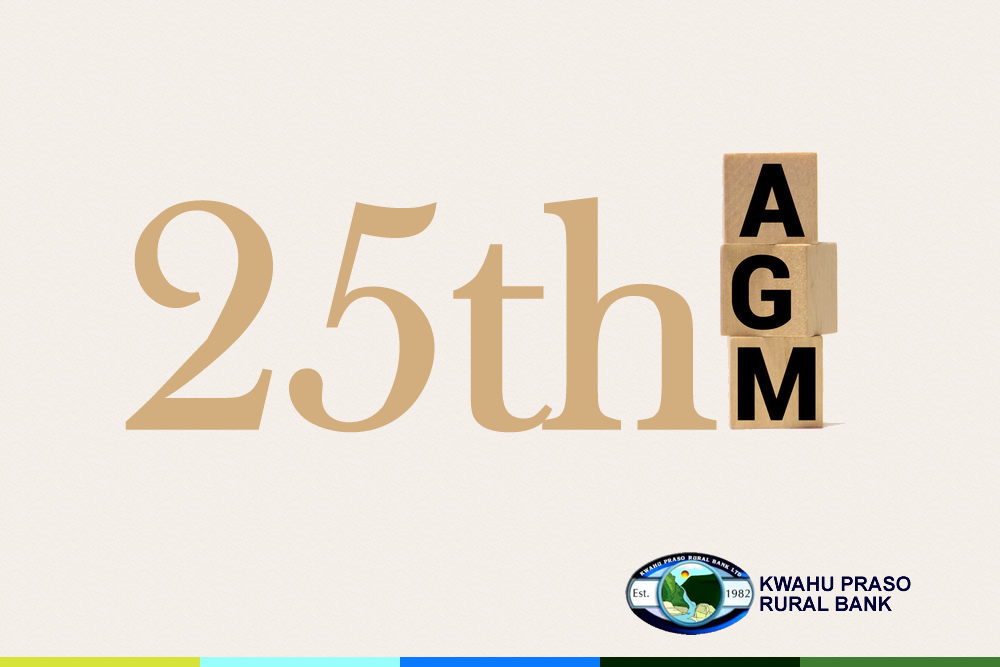 Notice is hereby given that the 25th Annual General Meeting of Shareholders of Kwahu Praso Rural Bank Limited will be held at the Presbyterian Church Premises, Kwahu Praso on Saturday 27th August, 2022 at 9:00am, to transact the following business.
To receive the report of the Chairman of the Board of Directors.
To receive and consider the report of the Directors, Statement of Accounts for the year ended 31st December 2021 and the Auditors Reports thereon.
To elect new Directors to replace those retiring.
To approve the remuneration of Directors.
To authorize the Directors to fix the remuneration of the Auditors.
Resolution to Register Kwahu Praso Rural Limited as a Public Liability Company (PLC) as required by law.
Resolution to authorize the Top Ten Shareholders to act on behalf of all Shareholders at the Registrar General Department.
Resolution to increase price per share from 0.50p to GH¢ 1.00.
Any other business.
Shareholders may appoint proxies to vote on their behalf and relative instrument must be deposited at the office of the Bank at Kwahu Praso not less than 48 hours before the meeting.
Copies of the Directors Report and Financial Statements are available for collection at the Banks Head Office at Kwahu Praso and all the Branches.
By order of the Board.
SIGNED
Fred Adu-Dwomor
(Member Secretary)